Here for a CHI Garage Doors Chicago Dealer? or call 773 869 2299
When looking to replace your old garage door, there is no better option in Chicago than CHI for quality, durability and price for the year 2020.
These doors are made here in Illinois so you know you are getting the best product for your money.
Victor Garage Door is a CHI dealer and will get you the best garage door brand in the midwest.
Call at 📞 773 869 2299 for a CHI dealer
C.H.I. Garage Doors is a prominent garage door company and a manufacturer of residential sectional garage doors, as well as commercial sectional and rolling steel . Hire the best garage door replacement and installation experts.
C.H.I. produces the highest quality garage doors by integrating premium-quality materials with superior designs and workmanship while maintaining a strong focus on end user satisfaction.
Dedicated to providing top quality overhead doors, backed by the best customer service and dealer support in the industry, it becomes clear why C.H.I. is "The Door To Quality."
CHI Garage Door Installation Chicago
Do you need a garage door installation in 2020? Call the best CHI garage door Chicago Dealer Victor Garage Door at 773 869 2299
RAISED PANEl
| | |
| --- | --- |
| Panel Style | Short Panel |
| R-Value | 9.65 |
| Section Material | Medium Duty / 27 Ga. Steel |
| Insulation Type | 1-13/16″ Polystyrene |
| Price | $$$ |
COLOR OPTIONS for CHI garage doors Chicago
White, Almond, Sandstone, Brown, Bronze, Gray, Evergreen, Dessert Tan and Black.
This is a good starter garage door Chicago home basic. They come in a variety of beautiful colors, insulation, layers, glass or window options and panel designs. Great choice the budget which will work well as an alley Garage Door.
Long and short panel available.
Sandwich door Insulation or non insulated one layer door.
Window available
Review from CHI Garage Door Website:
☆☆☆☆☆ 5 out of 5 stars.
Very nice door
"We were looking for a garage door for quit some time. I did a lot of research on door manufacturers and by far CHI was the pick for me and my needs. I'm very happy with it and Dave's Garage Door that installed it. Everyone was very professional. The warranty is good as well. Standing behind the products that you buy is very important to me. My purchase was a CHI 1 7/8" Polyurethane white long raised panel with Stockton windows. Insulation rating is excellent. Thank you all. Doug"
SKYLINE FLUSH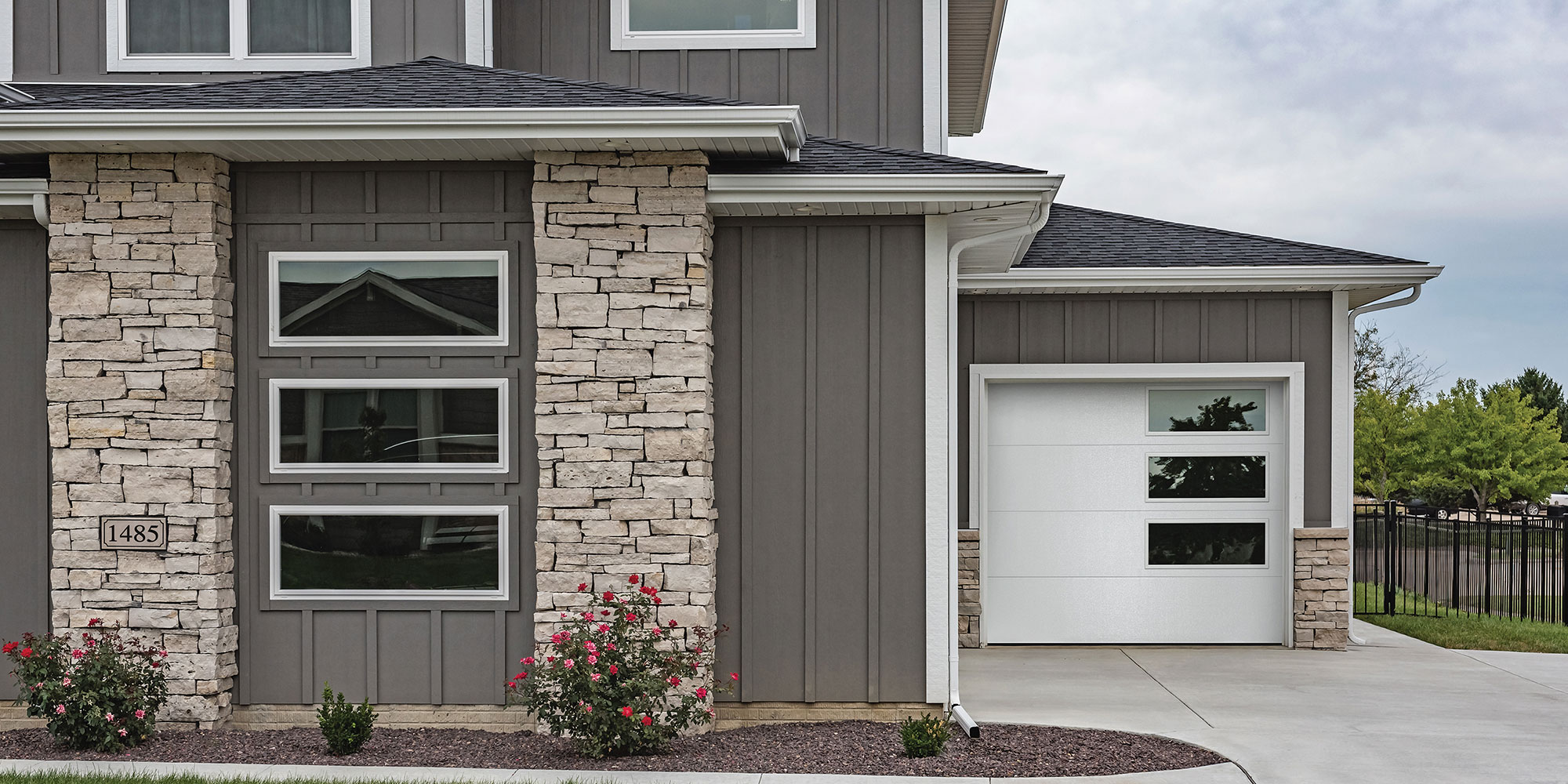 | | |
| --- | --- |
| Panel Style | Flush |
| R-Value | 10.29 |
| Section Material | Medium Duty / 27 Ga. Steel |
| Insulation Type | 1-13/16″ Polystyrene |
| Price | $$$ |
COLOR OPTIONS
White
Almond
Sandstone
Brown
Black
Gray
Not sure which color is right for your garage door Chicago? Let us help. Call for an estimate in Chicago or suburbs. 773 869 2299
Color Samples From CHI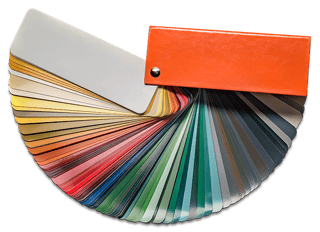 STAMPED CARRIAGE HOUSE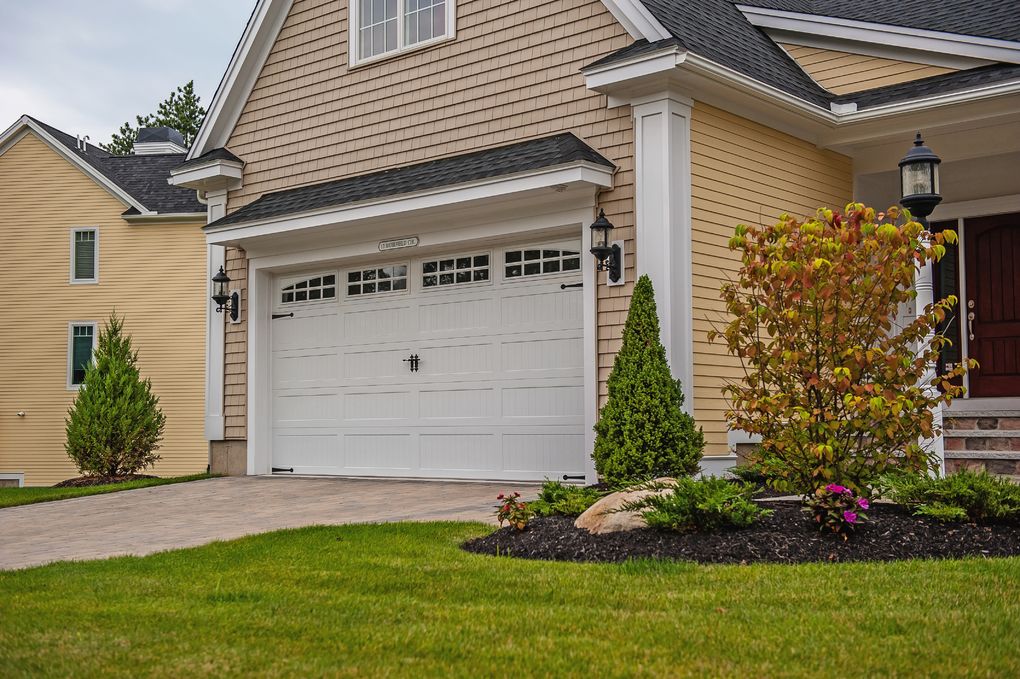 | | |
| --- | --- |
| Panel Style | Long Panel |
| R-Value | 7.94 |
| Section Material | Standard / 25 Ga. Steel |
| Insulation Type | 1-3/8″ Polystyrene |
| Price | $$ |
COLOR OPTIONS
White
Almond
Sandstone
Brown
Desert Tan
OVERLAY RECESSED PANEL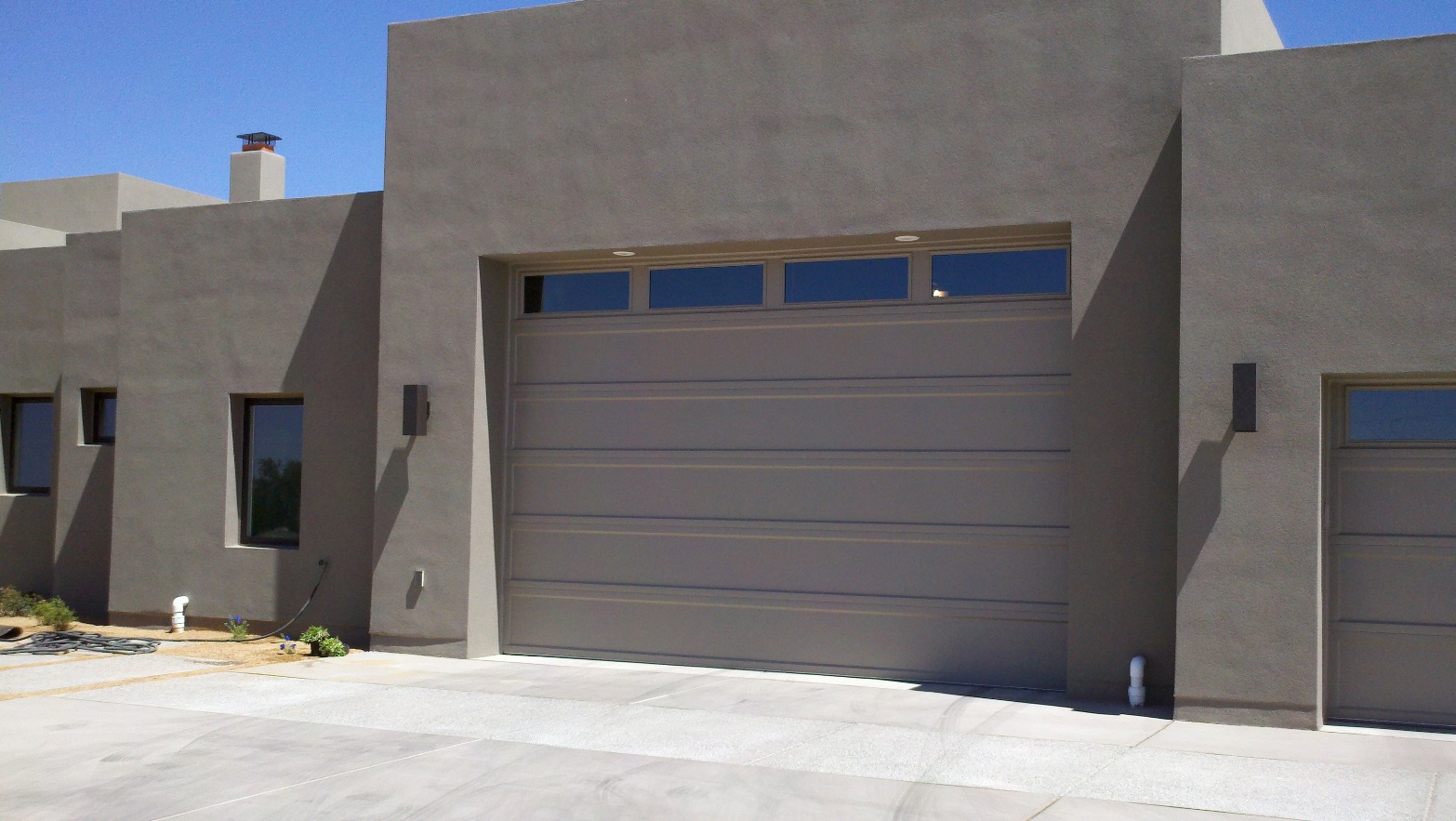 | | |
| --- | --- |
| Panel Style | Recessed |
| R-Value | 12.35 |
| Section Material | Heavy Duty / 25 Ga. Steel |
| Insulation Type | 1-3/8″ Polyurethane |
| Price | $$$ |
COLOR OPTIONS
FULL-VIEW ALUMINUM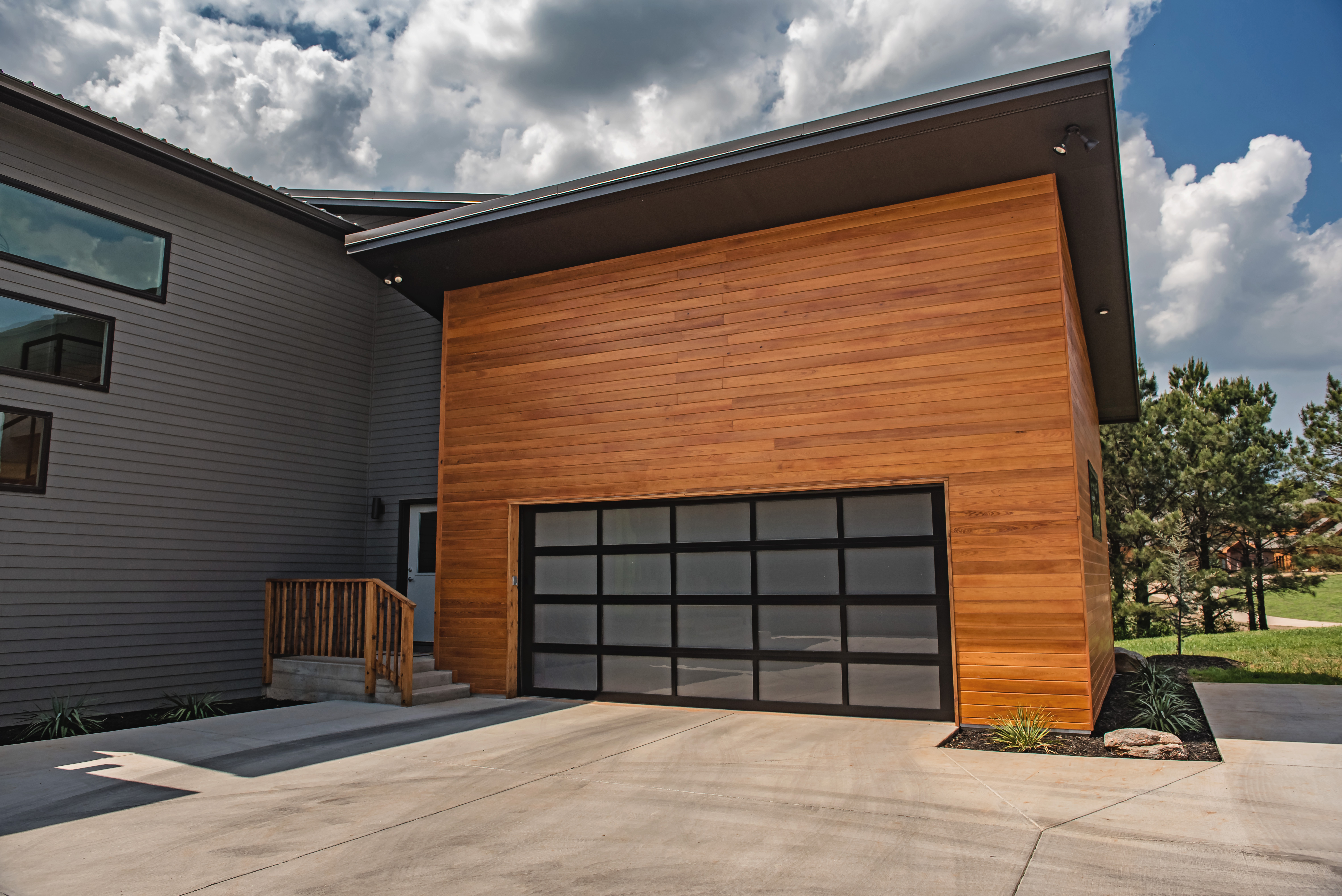 3297 FULL-VIEW ALUMINUM
| | |
| --- | --- |
| Panel Style | Full-View |
| R-Value | |
| Section Material | Heavy Duty / Aluminum |
| Insulation Type | Polystyrene Insulation |
| Price | $$$$$ |
COLOR OPTIONS
White
Almond
Sandstone
Brown
Bronze
Desert Tan
Black
Gray
STERLING CHI Garage Doors Chicago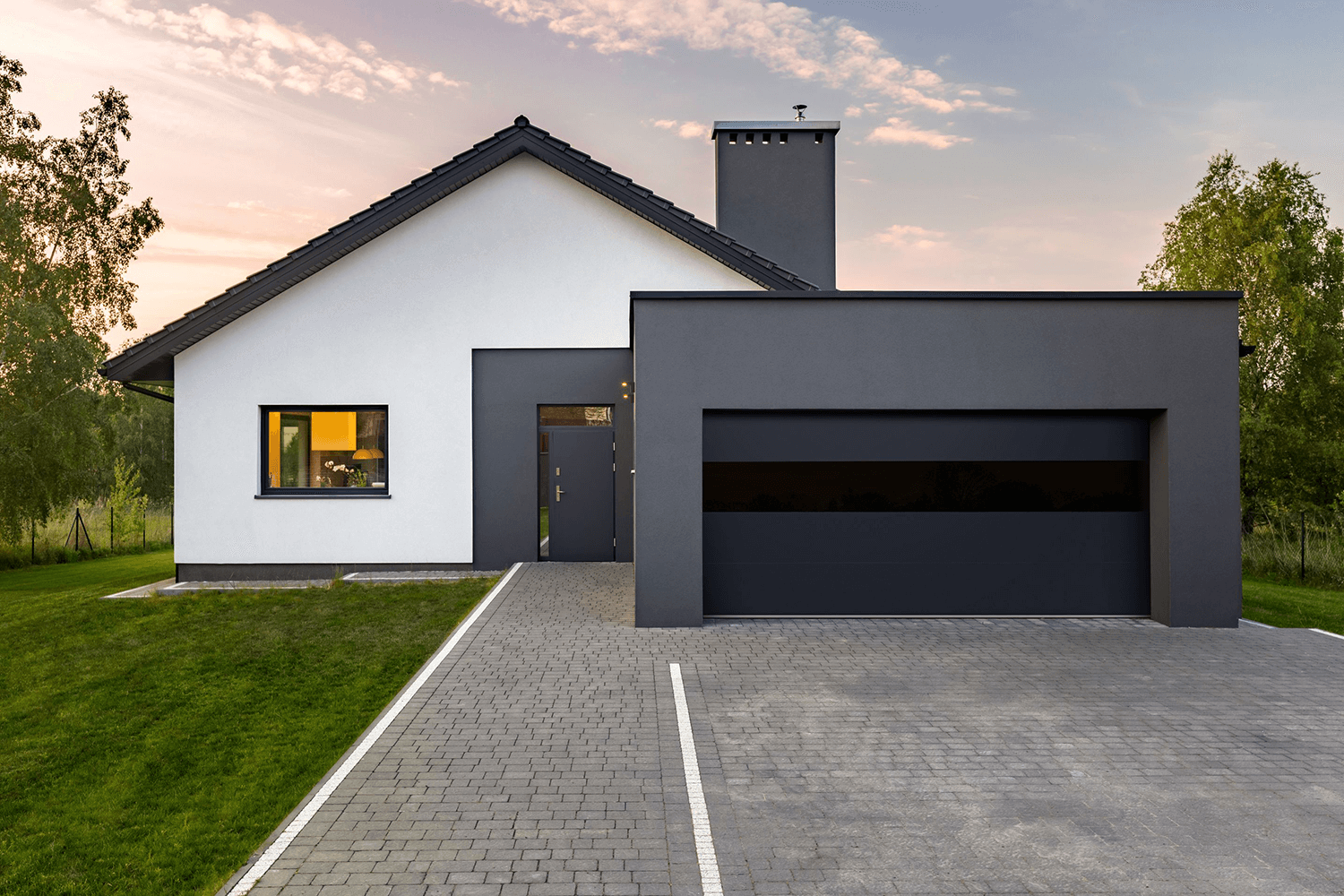 2717 STERLING
| | |
| --- | --- |
| Panel Style | Sterling |
| R-Value | 15.07 |
| Section Material | Heavy Duty / 24 Ga. Steel |
| Insulation Type | Polyurethane |
| Price | $$$$$ |
COLOR OPTIONS
When it is cold and snowing outside the last thing you want to come home to is a garage door that won't open. As we approach winter now is the ideal time to take care of your door and avoid being left out in the cold. By following these three easy steps you and your garage door will be prepared for winter.
If your garage door has windows you will also want to make sure the seals are tight around the frames, if not then frost will get between the window panes as temperatures reach freezing.
Things to consider when buying in 2020
Shopping for your house can be critical; especially if you are looking for exterior elements. Now, if it's something of utmost importance like garage doors, there are so many brands which have different kinds of garage doors, and so many opinions which ultimately result in messing up your mind.
What you need at such a time is a one stop solution for your garage troubles. The Chi Garage Doors Chicago specialize in overhead doors, and thus can provide proper, customized solutions. For your new homestead or your commercial plaza, they present a range of long standing and sturdy garage doors.
The convenience of a CHI garage doors Chicago
Though a CHI garage doors Chicago is primarily used for its utility; that is as a home for your beloved vehicle, it can also be put to use as an exterior décor element. When you look at a house, a significant expanse of your view is covered by your garage door. It is enough eye-catching, so that even if you have a Victorian styled plush house, a garage door can let it down.
But, people at Chi Garage Doors seem to understand this well. Along with the strengthening qualities like impact resistance, and wind breaking capacity, they also have a line of beautifully designed and aesthetically unique garage doors. Get garage door repair.
All CHI Garage Doors Chicago Options
What's best about CHI garage doors Chicago is the customization they offer, so you can design you own garage door. That way, with a little imagination you can have a unique garage door specially made for your house; one which you can call truly yours.
All you have to do is choose a panel style, color, glass type and you're good to go. You can also decide if you want the top windows Madison styled, Stockton or arched. You can even add the handles and hinges that suit you.
Types of Doors in 2020
These garage doors come in standard, intermediate and premium range. Standard range being the economical one consists of pan styled steel doors, most likely to go with a modern architecture. But, these are disguised to look like classic wood paneled doors, so you can get the same homely effect without the high costs.
Intermediate range doors are built to last for your next generation as well. These steel doors incorporate the ethnic style of carriage doors with the toughness, with a curved top.
Best Garage Doior Brand for your Chicago Home CHI
Premium range of C.H.I. garage doors combines finest materials and designs with the protective technology. In this range, you can get carriage style doors with the protection of steel from both sides.
Special insulation along with the double steel provides excellent weather protection. Such thermally broken garage doors also have special joint seals for extra shield. Install with a Liftmaster garage door opener.
Glass CHI garage doors Chicago Full View
Stop imagining the boring old metallic garage doors with no sense of beauty. With full view aluminum range, visual appeal gets as much importance as the utility.
This glassy finished metal door is an ideal option for a contemporarily designed household. Premium range also consists of fiberglass doors, which require little to no maintenance at all, and yet provide the carriage look, with a fraction of weight of a metal door.
A portfolio with All the above available in a beautiful colors, window and panel designs, undoubtedly makes a great market pitch.
Measuring your Garage Door Basics
Get the basics when measuring your door. You will need a long tape measure since most 2 car garage doors are 16′ in width. Most standard sizes are 16′ x 7′. Where 16 is the width and 7 hight in feet.
Measure the width
If you want to know the measurements of your garage door grab a tape measure and go from side to side of your opening. Measure the width from side to side. Then from the floor to the top of your garage door frame.
Standard width of a two car garage should be 16′
For a standard width of a car garage should be 8′, 9′
Measure the hight
Now Measure the hight from floor to the roof of your garage door frame.
If your garage door is standard you will get 7′
other variations to the hight would be: 6'3″, 6'6″, 6'9″, 7'6″, 7'9″ and 8′
Measure the headroom
The headroom is the space your have from the top of your garage door frame and the roof of your garage. If you have 12″ or more, you are in good shape. It will get more complicated for less headroom space than 12″
This following link from CHI will help you understand some of the specifications for a standard residential garage door in Chicago and near area.
https://cdn2.hubspot.net/hubfs/2029938/Architects-Specifications/standard-lift.pdf
CHI Garage Doors Chicago Warranty
Here is a table from CHI resources so you can feel good about making CHI your garage door choice in 2020:
Warranty Types
Warranty Type
Applicable Families
Download
1-Sided Steel
Non-Insulated & Insulated
Raised Panel
Flush Panel
Stamped Carriage House
Stamped Shaker
View Warranty
2-Sided Steel, Insulated
Raised Panel
Flush Panel
Stamped Carriage House
Stamped Shaker
Overlay Recessed Panel
View Warranty
Overlay Carriage House
Steel Overlay Carriage House
Wood Overlay Carriage House
Fiberglass Overlay Carriage House
View Warranty
Residential, Full-View Aluminum
Full-View Aluminum
View Warranty
High-Definition Fiberglass
High-Definition Fiberglass
View Warranty
Cleaning your CHI Garage Doors Chicago
Experts recommend cleaning your garage door at least twice a year to ensure it functions and looks as good as the day it was installed. And with the proper care and maintenance your door is sure to last for years to come.
The first step is to clean the exterior of the door. To do this you will need to a mix a mild detergent, such as dawn, with water and clean the door as you would your car, making sure to rinse thoroughly.
Once the door is clean you will want to apply car wax to help protect it from acid rain, rust and the sun, not to mention adding a nice sleek finish. In Chicago specially when the cold winter snow and salt damage your Garage door and rusts.
Remove Excessive Grease on the Tracks
Lastly it is time to move to the inside of the garage where all the moving parts are located that are essential to the functioning of the garage door. With a cloth remove the grease build-up from the track and rollers.
Once the grease has been removed lubricate the rollers, hinges and track with regular grade machine oil making sure to wipe away any excess oil with a cloth.
Cleaning the weather seal
You will then need to clean the weather stripping at the bottom of the door. Using a cloth and all-purpose cleaner, remove any dirt and rinse with water. As you are cleaning the weather stripping it is also important to look for areas that may need to be replaced due to cracking. If there are cracks or tears in the weather stripping it allows for snow and cold weather drafts to come inside.
CHI Garage Doors Chicago Clean Appearance Package
The hardware, including hinges, struts and track, are powder coated, creating a complete garage door system with a lasting clean impression.
For other tips on garage door services in Chicago Illinois check our main page.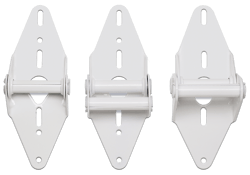 CHI Garage Doors Chicago repair
Looking for a CHI Garage Doors Chicago repair is easy too. This doors are compatible with many parts from dealers and repair companies. When one of your garage door parts breaks, there will be one available close to you. You can get your garage door repair in Chicago Southside or Northside
If you need a garage door spring repair in Chicago for your CHI, it won't be difficult to find the right spring.
Sources: CHI website.